Posts for tag: teeth grinding
By Jeffrey A. Gee, DDS, LLC
December 03, 2019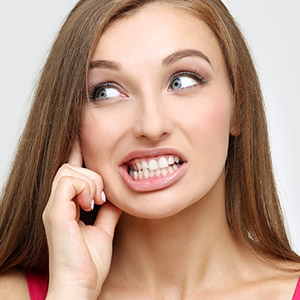 While your teeth and gums can take a lot, they still face dangers like dental disease. Your teeth are also affected by aging-related wear and tear.
And, something else could put your teeth at risk: teeth grinding. This is an involuntary habit afflicting one in ten adults in which they grind or clench their teeth, often while they're asleep. This generates higher than normal biting forces that can cause sore jaw joints, accelerated teeth wear and damage to the ligaments that hold teeth in place. In the worst case, you could eventually lose teeth.
So how do you know you're grinding your teeth, especially if you're asleep? You might notice your jaw being unusually sore after you wake up or your jaw muscles feel tired. Your dentist may also notice higher than normal tooth wear during a regular checkup. One of the best indicators, though, might be your sleeping partner or family: Teeth gnashing together can be loud enough to disturb others' sleep.
In treating adult teeth grinding, it's best to first determine the underlying cause. One of the most prominent reasons is chronic stress: If you're under high pressure from situations at work or at home, pent-up stress can vent through physical outlets like teeth grinding. You can manage high stress through relaxation techniques, biofeedback or group therapy, which could in turn reduce teeth grinding.
Teeth grinding could also be related to a sleep disorder, such as problems with shifting between nightly sleep cycles. Certain psychoactive drugs are often associated with teeth grinding too. And, because of alterations in brain chemistry, tobacco users are twice as likely to grind their teeth as non-users. So, receiving treatment for a medical condition or making certain lifestyle changes could help lessen a grinding habit.
Many of these approaches take time to alleviate teeth grinding. For immediate relief, your dentist can create a custom mouthguard you wear while you sleep to reduce the effects of teeth grinding. The guard prevents the upper and lower teeth from making contact while biting down, which reduces the forces against them.
The damage from teeth grinding is often cumulative. If diagnosed early, though, we may be able to stop or minimize the damage before it goes too far.
If you would like more information on teeth grinding, please contact us or schedule an appointment for a consultation. You can also learn more about this topic by reading the Dear Doctor magazine article "Teeth Grinding."
By Jeffrey A. Gee, DDS, LLC
July 16, 2019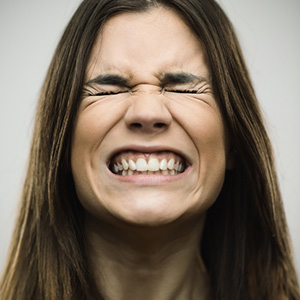 Do you grind your teeth? If you're not sure, ask your family—sometimes the sound of teeth grinding against teeth might make enough noise to be keeping them up at night. You might also be waking with sore jaw muscles and joints.
If you suspect you have this habit of involuntarily grinding, gnashing or clenching your teeth, it's a good idea to get it checked. Here are 3 things you should know about this odd habit.
Teeth-grinding more prevalent among children. Children are more likely than adults to grind their teeth in their sleep, thought to be a consequence of their developing swallowing mechanism, but usually grow out of it without any long-term effects. Adults with the habit seem to grind their teeth for different reasons, one of the most significant being a response to high stress. Tobacco could be another factor: users are twice as likely as non-users to grind their teeth. Adult teeth-grinding may also be associated with high caffeine consumption, illicit drug use or Parkinson's Disease, which impairs brain nerve function.
Sleep apnea can be an underlying cause. There's one other major underlying cause to add to that list: obstructive sleep apnea. One international study of thousands of patients from different countries found both high anxiety or stress and sleep-related breathing disorders were two of the most significant risk factors for adult teeth-grinding. It's believed the physical stress generated by these temporary episodes of breathing obstruction occurring several times a night could trigger teeth-grinding.
Teeth-grinding can cause dental problems. While having a teeth-grinding habit doesn't automatically mean you'll have dental issues, your risk can increase dramatically. Due to its chronic nature, teeth-grinding can lead to excessive tooth wear, dental work damage or jaw joint dysfunction. In some extreme cases, it could cause tooth fracture.
If you grind your teeth, your dentist may be able to help by creating a custom-made occlusal guard that can reduce biting forces while you're wearing it. You might also minimize teeth-grinding by quitting tobacco and other lifestyle changes, or getting a better handle on stress management. And if you're also diagnosed with obstructive sleep apnea, getting treatment for that condition will not only improve your overall health, it could help put an end to your teeth-grinding habit.
If you would like more information on bruxism, please contact us or schedule an appointment for a consultation. You can also learn more about this topic by reading the Dear Doctor magazine article "Teeth Grinding: Causes and Therapies for a Potentially Troubling Behavior."
By Jeffrey A. Gee, DDS, LLC
October 09, 2018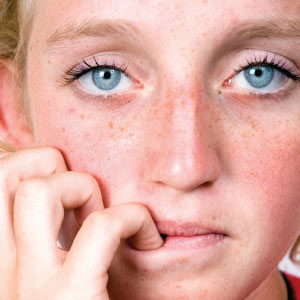 Along with thumb sucking, childhood teeth grinding is one of the top concerns anxious parents bring to their dentists. It's so prevalent, though, many providers consider it normal behavior—the sleep-disturbing sound it can generate is often the worst consequence for the habit.
But that doesn't mean you should brush aside all concern, especially if the habit continues into late childhood. Long-term teeth grinding could eventually damage the teeth and gums.
Teeth grinding (or clenching) is the involuntary movement of the jaws when not engaged in normal functions like chewing, speaking or swallowing. The action often produces higher than normal chewing forces, which over time can accelerate tooth wear, cause fractures, or contribute to loose teeth, all of which could increase the risk of dental disease. While it can occur at any time it's most common among children during nighttime sleep.
While stress is the usual trigger for teeth grinding in adults, with young children the causes for the habit are more complex and less understood. Most doctors hold to the theory that most pediatric teeth grinding arises during shifts from lighter to heavier, rapid-eye-movement (REM) sleep. The child's immature neuromuscular chewing control may engage involuntarily during this shift. Teeth grinding is also prevalent among children who snore or mouth-breathe, or who take anti-depressant medication.
But as mentioned before, there's usually no cause for concern unless the habit persists beyond about age 11. If the habit isn't fading, you should speak to your dentist about ways to reduce it or its effects. One way is with a custom-made night guard worn during sleep. The smooth, plastic surface of the appliance prevents teeth from making solid contact with each other during a grinding episode.
You might also seek treatment from an ear, nose and throat (ENT) specialist if your child is having issues with airway obstruction, which could also relieve teeth grinding. And children experiencing stressful situations or events may find relief both emotionally and physically from psychological therapy.
At younger ages, you can safely regard your child's grinding habit as normal. But if it persists, it's worth looking for ways to reduce it.
If you would like more information on your child's teeth grinding habit, please contact us or schedule an appointment for a consultation. You can also learn more about this topic by reading the Dear Doctor magazine article "When Children Grind Their Teeth: Is the Habit of 'Bruxism' Harmful?"