Posts for: December, 2020
By Jeffrey A. Gee, DDS, LLC
December 17, 2020

Although they can be expensive upfront, dental implants often prove to be a wise investment in the long-term. With a success rate that outperforms other teeth replacement restorations, dental implants could be the answer to a more attractive smile that could last for decades.
But while their success rate is high (95% still functioning after ten years), they can and do occasionally fail. Of those that do, two-thirds happen in patients who smoke.
This unfortunate situation stems from smoking's overall effect on dental health. The nicotine in tobacco constricts oral blood vessels, inhibiting the flow of nutrients and antibodies to the teeth and gums. Inhaled smoke can scald the inside skin of the mouth, thickening its surface layers and damaging salivary glands leading to dry mouth.
These and other effects increase the risk for tooth decay or gum disease, which in turn makes it more likely that a smoker will lose teeth than a non-smoker and require a restoration like dental implants. And blood flow restriction caused by nicotine in turn can complicate the implant process.
Long-term implant durability depends on bone growth around the imbedded implant in the ensuing weeks after implant surgery. Because of their affinity with the titanium used in implants, bone cells readily grow and adhere to the implant. This integration process anchors the implant securely in place. But because of restricted blood flow, the healing process involved in bone integration can be impaired in smokers. Less integration may result in less stability for the implant and its long-term durability.
To increase your chances of a successful implant installation, you should consider quitting smoking and other tobacco products altogether before implant surgery. If that's too difficult, then cease from smoking for at least one week before surgery and two weeks after to better your odds of implant success. And be as meticulous as possible with daily brushing and flossing, as well as regular dental visits, to reduce your risk of disease.
There are many good reasons to quit smoking. If nothing else, do it to improve your dental health.
If you would like more information on tobacco use and dental health, please contact us or schedule an appointment for a consultation. You can also learn more about this topic by reading the Dear Doctor magazine article "Dental Implants & Smoking."
By Jeffrey A. Gee, DDS, LLC
December 07, 2020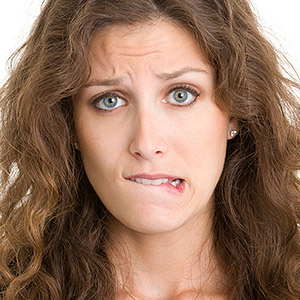 As the old Fifties song goes, "Little things mean a lot." They can also be the most irritating, like a hangnail, a papercut—or a certain kind of oral sore. Although rarely concerning to health, this particular kind of "bump" in the mouth can be unnerving.
Although known as a traumatic fibroma, it's not as dire as it sounds: It's simply a small wound created when your inside cheek gets in the "line of fire" between your teeth while biting or chewing. It's an experience most of us have had, and though it's a minor occurrence, it can make us wince with pain.
But the pain usually lasts only a few seconds—until the next time, which is a distinct possibility. The body creates a protective callous over the wound made of fibers (hence the name fibroma) of a protein called collagen. This creates a rise in the skin surface that increases the chances the area will again get in the way of the teeth and be bitten. Each bite leads to another layer of collagen, a more prominent rise and even greater probability of another bite.
Rather than let this irritating situation repeat itself, you can undergo a minor surgical procedure to remove the fibroma. Usually performed be an oral surgeon or periodontist, the area is numbed first with a local anesthetic and the fibroma removed with a scalpel; the resulting wound is then closed with a few stitches or a laser, in which case no stitches are necessary. As a result, the cheek surface flattens out and becomes less likely to get in between the teeth.
The dentist may also preserve some of the removed tissue and submit it for a biopsy to check for any cancer cells or other abnormalities. You shouldn't be concerned about this: Examining excised tissue is a routine step performed for a variety of surgical procedures. It's used to verify the tissue in question is benign, which in this case is the vast majority of the time.
After the procedure, you might experience some minor discomfort for a few days, usually manageable with a mild pain reliever like aspirin or ibuprofen. The procedure itself only takes about fifteen minutes, but it can provide you lasting relief from that bedeviling little sore in your mouth.
If you would like more information on treating mouth sores, please contact us or schedule an appointment for a consultation. You can also learn more about this topic by reading the Dear Doctor magazine article "Common Lumps and Bumps in the Mouth."