Posts for: April, 2018
By Jeffrey A. Gee, DDS, LLC
April 21, 2018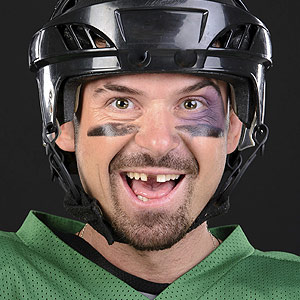 Contrary to what you might think, a knocked out tooth doesn't inevitably mean tooth loss. Time is of the essence — the shorter the interval between injury and replanting the tooth, the better the tooth's long-term survival. The longer the interval, on the other hand, the less likely the tooth can survive beyond a few years. That phenomenon is due to the mouth's natural mechanism for holding teeth in place.
The tooth root maintains its attachment with the jaw bone through an intermediary tissue known as the periodontal ligament. Tiny fibers from one side of the ligament securely attach to the tooth root, while similar fibers attach to the bone on the opposite side of the ligament. This maintains stability between the teeth and bone while still allowing incremental tooth movement in response to mouth changes like tooth wear.
While the ligament fibers will attempt to reattach to a replanted tooth's root, the longer the tooth is out of the socket the less likely the fibers will fully reattach. An "ankylosis" may instead form, in which the root attaches directly to the jaw bone without the periodontal ligament. In this situation the body no longer "recognizes" the tooth and begins to treat it like a foreign substance. In all but the rarest cases, the tooth root will begin to resorb (dissolve); at some point (which varies from patient to patient) the attachment becomes too weak for the tooth to remain in place and is lost.
Ideally, a knocked out tooth should be replanted within 5 minutes of the injury (for step-by-step instructions, refer to The Field-Side Guide to Dental Injuries available on-line at www.deardoctor.com/dental-injuries). Even if you pass the 5-minute window, however, it's still advisable to attempt replanting. With a subsequent root canal treatment (to remove dead tissue from the inner tooth pulp and seal it from infection), it's possible the tooth can survive for at least a few years, plenty of time to plan for a dental implant or similar tooth replacement.
If you would like more information on treatment for a knocked out tooth, please contact us or schedule an appointment for a consultation. You can also learn more about this topic by reading the Dear Doctor magazine article "Knocked Out Tooth."
By Jeffrey A. Gee, DDS, LLC
April 11, 2018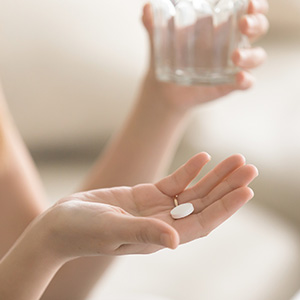 Because the mouth is one of the most sensitive areas of the body, we go to great lengths to eliminate pain and discomfort associated with dental work. Anesthesia, both local and general, can achieve this during the actual procedure—but what about afterward while you're recuperating?
While a few procedures may require prescription opioids or steroids to manage discomfort after a procedure, most patients need only a mild over-the-counter (OTC) pain reliever. There are several brands available from a group of medicines called non-steroidal anti-inflammatory drugs (NSAIDs). NSAIDs like aspirin or ibuprofen work by blocking the release of prostaglandins into the body, which cause inflammation in tissues that have been damaged or injured.
Unlike their stronger counterparts, NSAIDs have fewer side-effects, cost less and aren't addictive. And unlike opioids NSAIDs don't impair consciousness, meaning patients can usually resume normal activities more quickly.
But although they're less dangerous than opioids or steroids, NSAIDs can cause problems if taken at too strong a dose for too long. Its major side effect is interference with the blood's clotting mechanism, known as "thinning the blood." If a NSAID is used over a period of weeks, this effect could trigger excessive external and internal bleeding, as well as damage the stomach lining leading to ulcers. Ibuprofen in particular can damage the kidneys over a period of time.
To minimize this risk, adults should take no more than 2400 milligrams of a NSAID daily (less for children) and only for a short period of time unless directed otherwise by a physician. For most patients, a single, 400 milligram dose of ibuprofen can safely and effectively relieve moderate to severe discomfort for about 5 hours.
Some patients should avoid taking a NSAID: pregnant women, those with a history of stomach or intestinal bleeding, or heart disease (especially if following a daily low dose aspirin regimen). If you have any of these conditions or similar concerns, be sure you discuss this with your dentist before your procedure for an alternative method for pain management.
If you would like more information on managing discomfort after dental procedures, please contact us or schedule an appointment for a consultation. You can also learn more about this topic by reading the Dear Doctor magazine article "Treating Pain with Ibuprofen."